While wood is the traditional choice of material for decks in San Diego, homeowners planning a renovation now have the option of using composite decking. Composite decking and wooden decking each has its pros and cons, so how can you decide which is right for you? When you understand the advantages and disadvantages of each, as well as the typical cost, you can make the right choice. 
Composite Decking: Pros and Cons
Composite decking was developed in the 1990s to recycle materials and offer a more durable alternative to wood. These days, composite decking tends to be made of recycled plastic and sawdust, which adds texture. While the original composite decking looked cheap, now the material can easily pass for wood. It's more elegant and refined. 
Advantages of Composite Decking
Low maintenance: This material needs very little maintenance. That means no painting or staining! Composite decking is also resistant to insect damage, so it will hold up over time. 
Environmental impact: By choosing composite decking, you're making a green choice. The material is made from post-consumer recycled products. 
Natural appearance: The sawdust in composite decking gives it an organic look and feel. Manufacturers use randomized embossing to mimic the natural differences you might find from one board to the next. These new features make composite decking look more like the real thing.
Moisture-resistant: Composite decking is naturally moisture-resistant, making it a good choice for wet or damp areas. 
Long lifetime: Composite decks can last up to 50 years if properly cared for. 
Disadvantages of Composite Decking
Price: Composite decking tends to be more expensive than wood decking. At the high end, it can cost double the price per square foot of wood, manufacturer Trex reports. While wood decking costs less at the outset, you'll have to compare its price tag to the cost inclusive of maintenance for the typical lifetime of the deck. 
Absorbs heat: Composite decking tends to absorb heat. While this can be a boon in shoulder seasons, this means the deck may become uncomfortably hot in summer weather. This can be diminished by choosing a composite deck material that has cooling technology.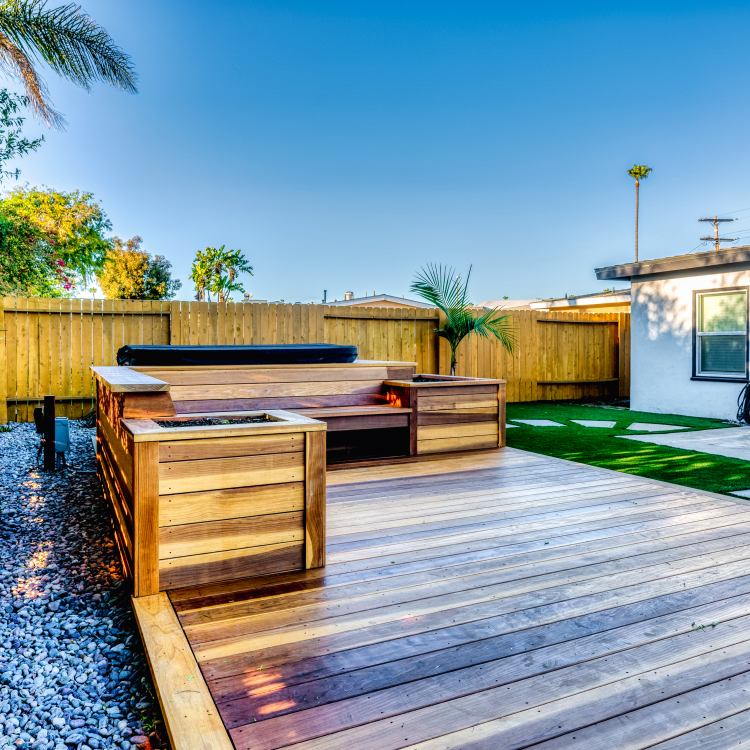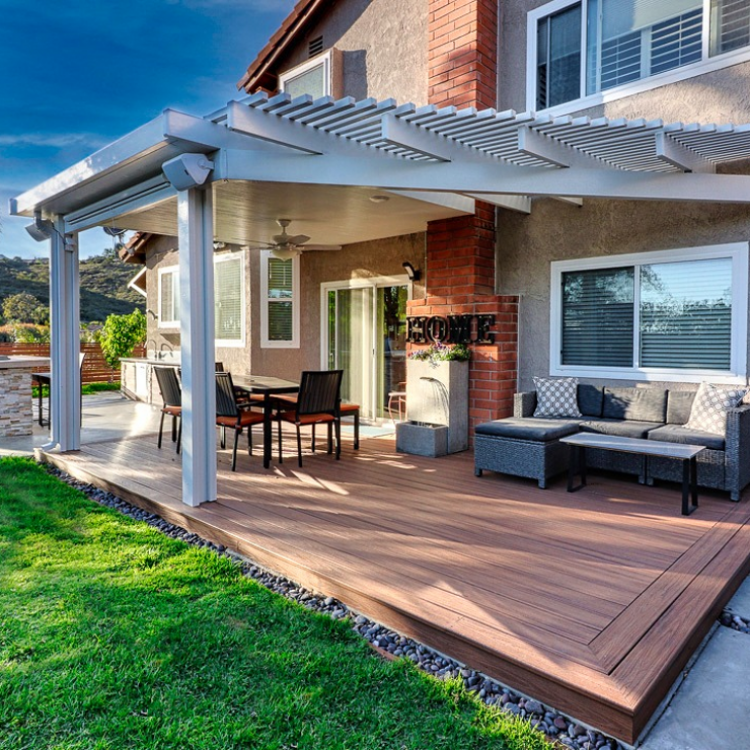 Wooden Decking Pros and Cons
Wooden decking is made from wood. It's the traditional option, and if you live in a historic neighborhood, it may be required by local bylaws. Assuming wood isn't required, there are advantages and disadvantages to choosing it for your deck.
Appearance: Wood decks are elegant and natural. They can be made from a variety of native and tropical hardwood trees, from maple and pine to ipe, mahogany, or bamboo. 
Familiar: Wood is familiar; everyone knows what it is. This can be an advantage if you're remodeling the home with the consideration of selling it later on because you won't have to explain the material choice to potential buyers. 
Price: While wood prices are climbing due to inflation, it is still the cheaper choice for decks. 
Long lifetime: It won't last as long as a composite deck, but a properly built, well-maintained wood deck could last 30 years. 
Maintenance: Wood decks need regular maintenance to preserve integrity. Every few years, you'll need to sand the deck, clean it, paint it, and seal it to prevent fading and rot. If you can keep up with their care, the decks will look nice for decades. If you skimp on maintenance, the wood may rot. You may need to replace damaged planks over time or tear down and rebuild a significantly deteriorated deck. 
Understanding the pros and cons will help you compare the options. To narrow choices further, visit home improvement stores where you can see and feel the material. This way, you can narrow down the option of all decking materials to one or two top choices for composite or wood. Pricing the materials against your budget can help you make the final choice.  
This is where we come in and prepared to handle the permitting process and HOA approvals as part of service to our clients.
For more information regarding permits click here and HOA approvals click here.
Usually if a deck is over 30 inches high off the ground, a permit would be required. This is where we come in and prepared to handle the permitting process and HOA approvals as part of service to our clients.
For more information regarding permits click here and HOA approvals click here.
San Diego Residential Deck Code – Click here
Vista Residential Deck Code – Click here
Chula Vista Residential Deck Code – Click here
Carlsbad Residential Deck Code – Click here
Poway Residential Deck Code – Click here
San Diego County Residential Deck Code – Click here