What is the Cost of a Bathroom Remodel?
The renovation experts at Need For Build break down what goes into the cost of remodeling a bathroom.
"How much will a bathroom remodel cost" is one of the top questions searched on Google about bathroom remodeling. While there is no one size fits all answer to the question of bathroom remodel cost, there are many factors that will influence the final cost of a bathroom remodeling project.

If you search the web for the cost of bathroom remodeling project, you will see numbers that vary drastically from website to website. The numbers they come up with are often based on size of the remodel and location.

The goal of this article is not to add to the noise. Instead of giving you another number that may or may not not reflect the plans of your remodel, this guide will break down the factors that go into the cost of a bathroom remodel.
Condition of the Bathroom
The starting point for any remodel is the condition of the current bathroom. Bathrooms that need extensive repair work will have that factored into the remodeling project.  Even though they are repairs, issues such as mold or plumbing problems would have to be addressed as part of the remodel.
Scope of the Bathroom Remodel
The scope of work will be determined by how different your current space is from your desired outcome. The layout may remain the same for one bathroom and the remodeling project will only be replacing the current items with updated items. Another bathroom will be completely gutted, have walls moved and be fitted with a new tub, tile, shower, vanity and the complete works. This will require more demolition work which is factored into the price. 
Sometimes a bathroom will even be extended or moved from one area to another. This can be considered a bathroom addition or a complete home remodel depending on the extent of the work.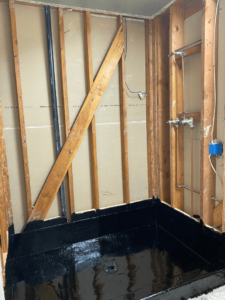 Different materials will have different price points. Even a single material can offer different grades that have different price points.  Knowing the pros and cons of different materials and their grades can help you make a decision that will get you the best for your money.  An experienced contractor or designer can guide you in material selection that will best meet your needs and desires. We do this for our customers. We also pass along the special pricing we receive from relationships with manufacturers to our customers.

Different materials may also affect the cost of labor because they require a different amount of labor to install. For example, penny tile will require more labor to install than 12" x 24" tile due to the intricate work necessary to place each small tile.
When considering labor, it more than a summation of the amount of time and the number of laborers necessary to complete your bathroom.
There is no standard fee or hourly rate for labor. Some companies will price their services higher than others. All labor is not equal.
A
reputable bathroom contractor
may be known for higher quality work and charge more for it. Some contractors may have higher operating costs that enable them operate at a higher level. If a bathroom remodeling contractor is licensed, bonded and insured, they will factor those costs into their labor. Having proper licensing, bonding and insurance are always for the customers' protection. These are some of things that influence the cost of labor.
Low Cost Can Get Expensive
Nobody wants to overpay for a remodeling project but that doesn't mean the cheapest option is necessarily the "best deal". Bids may come in a lower price but tack on additional expenses as the project progresses. A contractor may underbid to get the job but not properly assess the amount of hours necessary for laborers to get the job done right. This can lead to being understaffed with sloppy and rushed work which can result in necessary fixes down the road.

As stated earlier materials will have different grades and price points. Everybody enjoys a good bargain but no one likes to find that something as important as a bathroom remodel had something low quality about it. Expect to pay a fair price for materials and labor. High quality materials generally last longer. A company that is compensated appropriately will have the budget to allocate the necessary time and labor to get the job done right.
A Complimentary Consultation and Quote
Since costs for the various aspects of a remodel can vary so greatly, it's difficult to give even a fair ballpark price.
Knowing the specifics about a planned bathroom will determine the total price a contractor can put on a bid.
How much will YOUR bathroom remodel cost? We would answer the question by offering a
complimentary in-home consultation and quote.
After we discuss your remodeling project, we give you a complete breakdown of pricing as it applies to your project without hidden charges.
If you would like to learn more about our bathroom design and contractor services, visit our
bathroom remodeling page
.  If you would  like a quote for your future remodel, you can
reach out to us on our website
or call us at
(833) 806-2739
. We look forward to hearing from you.