Enhancing the Beauty of Your Home
Creative Ways to Use Stamped Concrete
If you are looking for a material that will stand the test of time, you cannot go wrong with good old concrete. While many new building materials have been developed in the interim, concrete buildings erected centuries ago are still going strong and still looking great, and that is a testament to the durability of one of the oldest commercial products in the world.
Despite its durability and cost effectiveness, concrete is often overlooked when it comes to expansions and home improvements. Homeowners appreciate the long lasting nature of the concrete walls in their basement, but they may not think about the many other ways this age old building material can be used.
Stamped concrete in particular is an increasingly popular building material, and its durability is only matched by its versatility. If you are contemplating a home improvement or expansion, you might want to consider these creative uses for stamped concrete, a top quality but sadly underutilized building material.
Patios
One of the best things about using stamped concrete in a home improvement project is its uncanny ability to mimic so many other building materials. If you love the look of a brick patio but not the constant upkeep, stamped concrete can give you the appearance of brick with a lot less work.
Stamped concrete patios are far more durable, and often less expensive, than brick ones. If you are looking for a way to upgrade the exterior of your home, stamped concrete could be the perfect choice for your new patio.
Driveways
Compared to asphalt and other common materials, concrete driveways can be far more durable and long lasting. In the end that long life could make a concrete driveway the more affordable choice, even if the up front cost is a bit more.
Many homeowners appreciate the longevity and simple maintenance of a concrete driveway, but those plain driveways are not exactly attractive. Enter stamped concrete – a more aesthetically pleasing alternative that offers all the benefits with none of the drawbacks. The next time you see a driveway that looks like slate or stone, take a closer look – it just might be stamped concrete instead.
Pool Decks
Building a pool is an expensive undertaking, and the choice of materials is very important. Beyond the pool itself is the pool deck, the spot where you and your family will be spending a lot of their summer days.
Stamped concrete can be a great choice for all kinds of pool decking, and its ability to mimic other building materials is one of its chief benefits. Your guests might think you spent a fortune installing a genuine stone pool deck, but you will know the truth. That stunning pool deck is really stamped concrete, and it cost less than those envious guests could imagine.
Interior Flooring
If you think concrete is just for basement floors, you clearly do not appreciate the versatility of stamped concrete. This durable and attractive building material can be used many places in your home, and its durability and easy maintenance can make it the perfect choice.
Once again the ability of stamped concrete to mimic other building materials comes into play here. If you love the look of stone or marble but not the high cost of complex installation, stamped concrete could be a valuable alternative.
Sidewalks
Whether you live in the city, the suburbs or out in the country, having a solid and safe sidewalk is very important. Pouring a new sidewalk can be a complex home improvement project, and you want the results to be worth all the work and expense.
You could pour a traditional concrete sidewalk, but why not make the project something special? Stamped concrete is a great choice for residential sidewalks, and an increasingly popular option in many parts of the country.
There you have it – great places to add the durability, the beauty and the style that only stamped concrete can bring. Stamped concrete provides a host of important benefits, and its good looks make it a great alternative to more costly materials like brick, stone and slate.
ny people do not fully understand how to achieve this. Here are five tips that you should consider if you are trying to create your very own indoor-outdoor living space.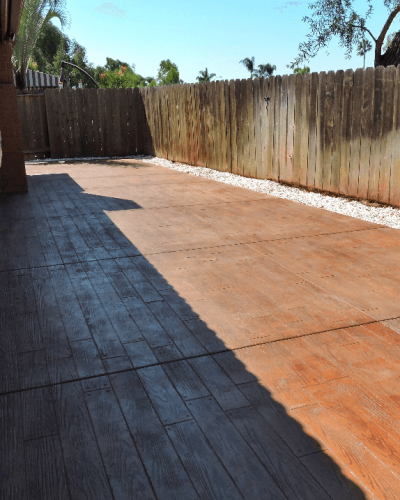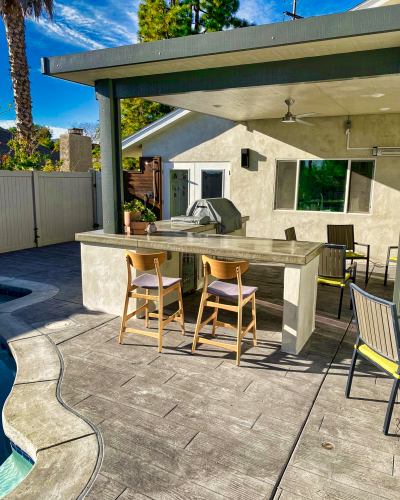 Located in Poway Serving all of San Diego County
Located in Poway and serve all of San Diego county. We may be working on a project near you. See our project map to view the areas of San Diego we are currently completing other remodeling projects.
Your First Step To A Remarkable Home Remodeling Experience
Contact Us Today For Your Complimentary
Design & Quote