Thinking about installing pavers (paving stones) in your
landscape
? Great! Pavers are a popular choice for exterior flooring for a good reason. Pavers are durable, attractive and come in a variety of style options. Many homeowners have questions before deciding to install pavers. We have completed pavers installation for a multitude of homeowners. We answer many of the common questions homeowners ask below.
Pavers can be the last exterior flooring solution you need for your home. Pavers can last well over 50 years. The first step to long lasting pavers is proper installation. This includes preparing a solid foundation that also provides proper drainage. Proper installation wards off problems such as cracking, shifting, sinking and loose paving stones down the road. We go an extra step when installing pavers by laying down weed barrier to discourage weed growth.

Pavers don't need much maintenance to keep them performing and looking their best. Once you install pavers, we recommend periodic cleaning and sealing. This will keep the pavers looking good and give them a longer lifespan.
What areas of my landscape are pavers good for?
Pavers are a versatile hardscaping solution. Virtually any area of your landscape can use pavers effectively. Some of the popular areas we have installed pavers on include patios, driveways, pool decks and even on fire pits!
What type of pavers materials can I use?
Pavers fall into two categories: natural stone and manufactured. The most common types of natural stone pavers we install are travertine, slate, flagstone and granite. Popular manufactured paver options include brick, cement, and porcelain. They are attractive and durable choices.

All paving materials mentioned will have different properties to a degree. They are however all good choices for general use. Some materials such as brick and concrete lend themselves better to specialty projects like fire pits. Pool decks can benefit from cooler flagstone and travertine pavers. Which material to use often comes down to the look you desire.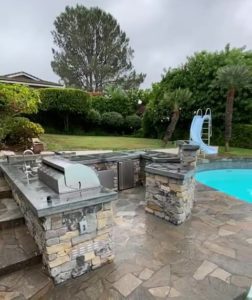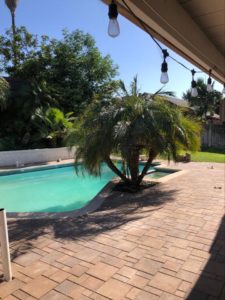 If you want the look of pavers, there is really no alternative. Even though pavers have many design and material options, nothing can quite replicate the exact look. There are however alternatives to the uses for pavers. For patio flooring you can go with turf or stamped concrete. Natural or stamped concrete works well for pool decks. For fire pits, concrete is also a popular choice.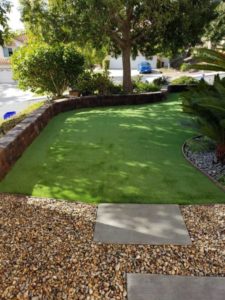 Ideas and cost for your pavers project
If you have further questions or are ready to talk about pavers for your landscape,
contact us by web
or if you prefer phone,
call us
today. We can set up an appointment to visit your home. We are located in nearby Poway and work in all areas in San Diego county. We will be glad to assist you with a complimentary consultation and quote.
Our quote will provide you with a complete breakdown of the charges so you will know what the pavers project will cost. Our consultation will give you clarity so you can determine the best solution for your pavers installation project. We will go over your ideas and available options. Get started and contact us today!