Choosing the Best Kitchen Remodeling Contractor In San Diego For Your Renovation
Need For Build breaks down the important points to consider before choosing a kitchen contractor to work on your San Diego remodeling project.
Kitchen Remodeling Companies in San Diego
The kitchen is one of the highest traffic areas in a home where families cook, eat and socialize on a daily basis. The kitchen is also one of the areas that guests frequent during celebrations because food and cooking are always part of festive occasions. With all the use that the kitchen gets, it's important that it has a look you can enjoy and the functionality to get things done. When you are making plans to renovate your kitchen, choosing a remodeling company in San Diego that will help you achieve that balance of beauty and functionality can be difficult. Need For Build is a San Diego kitchen contractor that understands the importance of making a wise choice. This post documents the top criteria for San Diego residents to look for when choosing a kitchen remodeler.
Licensing, Insurance, and Bonding
This is the first step to making sure that any kitchen remodeler is legitimate and concerned for the well being of their company, workers, and customers. When a company obtains a license, it has passed all of the requirements of the CSLB (Contractor State Licensing Board of California). This includes passing two exams and having at least 4 years of experience in the field. When a company gets insurance, it protects you and the workers on your property if anyone has an accident. Bonding protects your investment in your renovation project in the event that the company cannot finish the project.
Experience of the Contractor
A contractor will have experience in the field if they are licensed. You may also want to be certain they have experience specifically with kitchen remodeling. Kitchens will have their own unique challenges and requirements. Ways you can check if they have kitchen experience is by viewing their websites, review sites and having a chat with them personally to see what experience they have with kitchen remodeling.
Review sites can show you what kind of interactions a remodeling company has previously had with customers. This will give you an overall sense of how the company operates and the quality of their work. Don't let one negative or one positive review inform your entire opinion as you can't be certain of a reviewer's motive for posting the review.
Every contracting company is not the same. Price does not necessarily equal the value you will get in return. While staying in budget is definitely important, the company you hire should embody all the qualities you consider important before deciding to hire them.
Do you like the contractor?
After checking out a kitchen contractor's credentials, experience, reputation, and value, there is one thing left to ask; do you like the person you may hire? You want to have a reasonable expectation that remodeling your kitchen with the contractor will be a good experience. A good working relationship with a contractor you trust will make the process enjoyable while you wait for your brand new kitchen.
Learn about our kitchen remodel services at
https://www.needforbuild.com/kitchen-remodel
. If you would like a quote for your kitchen, fill out our quote request form below. View our
project map to see where we are working
.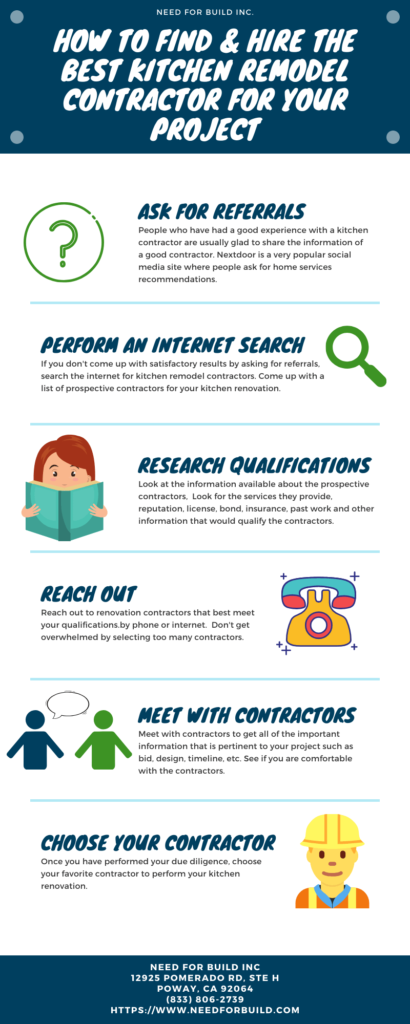 Your First Step To A Remarkable Remodeling Experience
Contact Us Today For Your Complimentary Design & Quote